Mandalas To Color Volume 1 Digital Download Version
Item: CIMANDALAS1DL
All orders in the USA qualify for FREE standard shipping and will arrive within 4-10 days, or upgrade to Priority shipping for a small fee.
All purchases come with our no questions asked 30 day return policy.
Customer Submitted Photos Of This Product
Product Description
*** Please note that this is a digital download version.  You will receive a PDF file that is downloaded to your computer. A hard copy of the book will not be sent. ***
Please print and complete these amazing sacred circles in your own personal style. The possibilities for creating works of art are endless.
Customer Reviews
Write a Review
Ask a Question
Confused
I expected a color palette of some sort downloaded with the download of pictures. Am I supposed to print copies and color them on paper. That was not what it sounded like when l read about it on my computer. It sounded like it was all the other ones that I have downloaded.
Love it I love all
Love it I love all of Colorits products.
Mandalas
I love coloring mandalas! Coloring mandalas leaves you stress-free and relaxed. I have used the colorit colored pencils which are smooth and brilliant and the colorit markers which are brilliant in color too! Coloring pictures has been a hobby of mine for years. It's so nice to see so many people joining in the fun of coloring. I especially thank Colorit for giving all of us such a wonderful array of pictures to color and the quality coloring supplies you offer.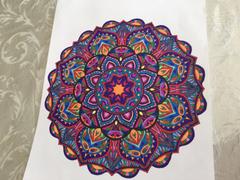 Love The Book...Great Download
I purchased the actual book some time ago, and recently purchased the download. It is so great to now have the opportunity to color many of my favorite designs over again, using different colors, or different coloring tools. The designs are excellent, and I would say are better than any other book I've seen on the market. I know I will enjoy many fun hours using this download version, and look forward to seeing more of your books converted to download format in the future. Thank you for this wonderful product.
Mandala coloring book
These are the best books out there, and the company is fantastic to work with. Highly recommend!!!
Sign up for exclusive sales and latest news
A Word From Our Co-Founder
Reviews From The Web
What people are saying about us...
"I love my coloring book and it relaxes me to color. It's great quality! You can use markers, colored pencils or crayons and it looks amazing. Thank you for creating such a GREAT product."
Jessilyn in El Paso, TX
"I just wanted to tell you how much I love your ColorIt adult coloring book, Calming Doodles volume 1. It is such great quality and the tangles are great to color with gel markers. They look fabulous! I especially love the spiral binding at the top of the page. It makes it so easy to create my masterpieces."
Tiffany in Overland Park, KS
"The quality is outstanding. The hard covers...front and back...and the "blotter" page you include, they just all come together to form a really great product. And the drawings are-each and every one- beautifully done works of art! Sometimes I hesitate to even colour the pictures because I don't want to spoil the edgy black and white look to them. But I force myself to (-; anyway."
Robin in Raymond, WA
"My husband gave me your Calming Doodles coloring book for Christmas and I LOVE it. The stiff backer board is perfect to support the wonderful heavy weight of the paper. I use markers and love the finish and smooth look I get on the paper. I am a card maker and plan to cut each sheet into 1/4's to make cards out of each piece. Love having a coloring book I can do something with instead of having lots of white space with an image in the middle of each page. You've got a winner here to be sure."
Colleen in Kalispell, MT