ColorIt Colorful Patterns, Volume II Adult Coloring Book Illustrated By Terbit Basuki
Item: CIPATTERNS2
All orders in the USA above $30 qualify for FREE standard shipping and will arrive within 4-10 days, or upgrade to Priority shipping for a small fee.
All purchases come with our no questions asked 30 day return policy.
Customer Submitted Photos Of This Product
Product Description
COLORIT COLORFUL PATTERNS, VOLUME II COLORING BOOK FOR ADULTS

Celebrate Mother Nature and the breathtaking beauty of her creations. Let your creativity flourish as you bring 50 enchanting designs to life with vibrant colors.
The second installment of our  Colorful Patterns adult coloring book series lets you explore the intricate and mesmerizing patterns that grace every corner of our natural world. With its delicate floral motifs and playful animal designs, this delightful book is a perfect way to unwind, relax, and connect with your core.
Illustrated by Terbit Basuki, this coloring book for adults lets you find inspiration from a vibrant tapestry weaved by the unique charm of flourishing greens, fluttering wings, and fascinating beings.
Follow a path of patterned bliss through intricate insect wings, soothing ocean waves, enchanting flower gardens, and the magic of all living things in Colorit Colorful Patterns, Volume II Coloring Book for Adults.
Unwind and Harmonize with Nature
Dance with Patterns. In ColorIt Colorful Patterns, Volume II Adult Coloring Book, intricate patterns, creatures, and creations intertwine. Color nature's symmetries and forms with your creativity.
Frolick with Flora and Fauna. Revel in the joyous abundance of nature's playground with 50 illustrations by Terbit Basuki. Play with the colors of mischievous critters and dance amidst vibrant blooms.

Escape from Stress. Bid farewell to frustrating ink bleeds. Relax and color with our artist-quality paper and ink blotter. Free your creativity with coloring markers, glitter gel pens, colored pencils, and more.
Seek Your Center. With a convenient top spiral binding for effortless coloring with both hands and hardback covers for a steady coloring surface, you can bask in the patterns of nature wherever you go.
Share the Serenity. Printed single-sided, our Patterns adult coloring book has perforated edges for easy removal from the binding. Frame your artwork. Share them with loved ones and spread the joy!
Unleash your imagination and sprinkle in a touch of your artistry to the wonders of nature. Gather your favorite coloring tools, get comfy, and indulge in the beauty and tranquility found in the pages of this captivating coloring book.
Stay in touch with us to learn more about our Colorful Patterns Coloring Book for Adults and ColorIt's premium line of adult coloring books and coloring mediums. Don't miss our announcements and special promotions. We regularly share content on coloring tools, coloring tips for beginners, art submissions, and more.
Colorful Patterns Volume II coloring book for adults comes with ColorIt's signature features such as:
HARDBACK COVERS

ColorIt's hardback book cover is designed to make our adult coloring books lay flat and keep the pages protected. Indulge in soothing harmony anywhere you go without needing a table to color on.

PERFORATED PAGES

Your loved ones deserve a break, too! Our adult coloring book has convenient perforations on top, so you can effortlessly detach your masterpieces and turn them into meaningful gifts or decor that warm the heart.

HIGH-QUALITY PAPER

We use the highest quality 65lbs (175gsm) acid-free paper that will last for years to come. Our 8.5"x11.5'' bright white and thick paper is ideal for colored pencils, art markers, pastels, gel pens, glitter gel pens, watercolor brush pens, and more.
BONUS INK BLOTTER

No need to worry about your art markers bleeding through to the next page with our adult coloring books. Simply tear out the complimentary ink blotter page and place it under the artwork you are coloring.

HAND DRAWN DESIGNS

Terbit Basuki takes you on a meditative journey through the wonders of nature and the healing powers of art with a charming 50-page collection of original and hand-drawn illustrations on flourishing greens, fluttering wings, and fascinating beings.

SPIRAL BINDING

Our Colorful Patterns, Volume II coloring book for adults has a spiral binding along the top so both left and right-handed colorists get to enjoy an effortless flip-through and coloring experience.
Customer Reviews
Write a Review
Ask a Question
Filter Reviews:
shapes
Terbit Basuki
mine
pics
favorite
patterns
colors
variety
book
08/19/2023
JOYCE R.

United States
So much fun
Like the variety of shapes and deciding what colors to use to make the finished product special for me.
08/16/2023
Jessica L.

United States
Love color it products
Once I found these amazing HIGH quality coloring books, I haven't looked elsewhere. Nothing can compete with these books. The top spiral binding, thick pages to handle any medium, and the amount of pages and professional drawings is crazy!! Never will look for any others again. Gel pens are really good quality as well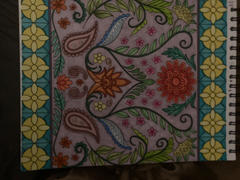 08/13/2023
Brenda M.

United States
Colorful patterns
can't wait to get started!! Has lovely, challenging pics, and nice patterns. Artist Terbit Basuki is a favorite of mine. GREAT BOOK!!
Sign up for exclusive sales and latest news
What ColorIt is all about
Reviews From The Web
What people are saying about us...
"There are so many colors, this is amazing! The gel pens come in a nice little box and even have some sample coloring pages. I even got gel pen refills, which is so cool and unique!"
Anna in Tewksbury, MA
"Look at all these colors! The markers blend perfectly with the fantastic coloring book I got. I can't wait for their next book release."
Madison in Charleston, WV
"The coloring pages are beautifully detailed. You have so many different options to color! I also love the blotter page that they add to any coloring book. Each page is very thick and sturdy. So impressed, and I can't wait to enjoy and create!"
Jessica in Byron Center, MI
"I have really high preferences when it comes to art supplies. And this paper is so thick and beautiful. I'm so excited to start coloring. I love the markers as well! The colors are so gorgeous!"
Jenna in Plymouth, MN