Blissful Scenes Illustrated By Hasby Mubarok
Item: CISCENES1
All orders in the USA qualify for FREE standard shipping and will arrive within 4-10 days, or upgrade to Priority shipping for a small fee.
All purchases come with our no questions asked 30 day return policy.
Customer Submitted Photos Of This Product
Product Description
Everyone has a favorite place – the calming beach, a peaceful garden, or a picturesque apple orchard. But why stop at visiting these places when you can color them too?
With the Blissful Scenes coloring book, each page allows you to escape and recreate the places you love most! All you need are your go to colored pencils, gel pens or markers, and the perfect environment to drift away.
The 50 hand-drawn designs of beautiful landscapes, relaxing scenes, and serene animals will ease your mind into coloring bliss. After a long day, there's nothing like coloring drawings of a seashore and seashells to transport you back to warm summer days spent at the beach.
Or what about traveling to the secret garden you frequented as a child? With designs of chipper birds, flowers in bloom, and a tree house, your mind will enter a calming state as you color away. Wherever your favorite place may be, coloring is a soothing activity to break away from your busy life or fill idle time.
Middle to expert level colorists will welcome the challenge of coloring the intricate details and fine lines. If you're a beginner, don't shy away from getting this book. Any colorist will surely enjoy hours of creativity.
Like all of our books, Blissful Scenes comes with these convenient features that make coloring an activity you can truly enjoy:
Hardback covers to take coloring on the go

Top spiral binding for left-handed and right-handed colorists

Thick, acid-free, artist quality paper with designs printed single-sided

50 intricate hand-drawn designs  that turn coloring into artwork

Perforated pages for easy framing, crafting, and gift-giving

A bonus blotter to prevent ink from bleeding through
Get your Blissful Scenes coloring book now and experience your favorite places on paper. Click add to cart and enjoy 50 pages of pure bliss!
What sets ColorIt coloring books apart from the rest?
HARDBACK COVERS

All our books come with hardback covers to protect your artwork and make it easier to color on the go. With our thick hardcovers, you can easily color on the train, bus, or plane. 

SPIRAL BINDING

Stop fighting to keep your book flat while you color. With our double wire spiral binding, you can flip to the page you want to color and lay the book perfectly flat.

HAND DRAWN DESIGNS

All 50 of our Zentangle inspired designs are painstakingly drawn by hand. Nothing is computer generated, so the finished product looks like something you created from scratch.

HIGH-QUALITY PAPER

We use the highest quality paper that is 65lbs (175gsm), acid-free and will last for years to come. Our 8.5"x11.5" bright white paper is ideal for coloring pencils, markers, pastels, gel pens, and more. Our paper even performs well with watercolor brush pens, but be sure not to oversaturate the paper.

 

FREE BONUS BLOTTER

No need to worry about your markers bleeding through to the next page with our books. Simply tear out the complimentary blotter and place it under the page you are coloring.

PERFORATED PAGES

All the pages in our books are perforated along the top. Want to take one of your masterpieces out and frame it or give it to a friend? No problem. 
Customer Reviews
Write a Review
Ask a Question
Filter Reviews:
book
coloring book
pictures
color
pages
Blissful Scenes
scenes
purchase
markers
quality
10/11/2020
Helen G.
United States
Great!
Love this coloring book!
10/07/2020
Phyllis V.
United States
Blissful scenes
I bought colorit Art books for an adult bday. We all enjoyed our time together an the water color artistic pages. So thank you!!
10/01/2020
Ciara C.
United States
Fun and meditative
The coloring book is beautiful. The pictures are not too detailed, so it's not stressful trying to color the scenes. I love the spiral at the top and the hardback cover, so you can keep the book on your lap if you want to color on the couch or in bed. Shipping was fast and easy. And I love the free Friday downloadable sheets! I would definitely buy additional books in the future!
09/23/2020
Kelley D.
United States
My favorite coloring books!!!
I *LOVE* these coloring books!!!! The paper is phenomenal quality, I use art markers and they don't bleed through at all (but I still use the included blotter page just to make sure). I can blend on the pages with no problem too! I love the spiral top so it's easier to color each page without fighting the binding. You don't need a hard surface because the front and back cover is hardback. I really enjoy the pictures, very well done! I did get the sample coloring book this time as one of my choices and now I can't wait to get the doodle coloring book! It seems it's out of stock right now and I surely understand why, great coloring book!!! Hope it's back in stock soon, I think that's my new favorite!!! Thank you for the wonderful products!!!! ❤️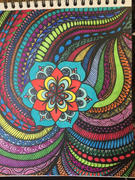 09/22/2020
Angela S.
United States
Blissful scenes
Woundful drawing not to easy but not hard to color very relaxing.one side of the page print on the other no bleed through. Paper pages were thick and easy to remove if.need to had a great time coloring I would recommend this book to anyone
Sign up for exclusive sales and latest news
A Word From Our Co-Founder
Reviews From The Web
What people are saying about us...
"I love my coloring book and it relaxes me to color. It's great quality! You can use markers, colored pencils or crayons and it looks amazing. Thank you for creating such a GREAT product."
Jessilyn in El Paso, TX
"I just wanted to tell you how much I love your ColorIt adult coloring book, Calming Doodles volume 1. It is such great quality and the tangles are great to color with gel markers. They look fabulous! I especially love the spiral binding at the top of the page. It makes it so easy to create my masterpieces."
Tiffany in Overland Park, KS
"The quality is outstanding. The hard covers...front and back...and the "blotter" page you include, they just all come together to form a really great product. And the drawings are-each and every one- beautifully done works of art! Sometimes I hesitate to even colour the pictures because I don't want to spoil the edgy black and white look to them. But I force myself to (-; anyway."
Robin in Raymond, WA
"My husband gave me your Calming Doodles coloring book for Christmas and I LOVE it. The stiff backer board is perfect to support the wonderful heavy weight of the paper. I use markers and love the finish and smooth look I get on the paper. I am a card maker and plan to cut each sheet into 1/4's to make cards out of each piece. Love having a coloring book I can do something with instead of having lots of white space with an image in the middle of each page. You've got a winner here to be sure."
Colleen in Kalispell, MT