Premium 72 Colored Pencil Set With Case and Sharpener
Item: CIPENCILS72
All orders in the USA qualify for FREE standard shipping and will arrive within 4-10 days, or upgrade to Priority shipping for a small fee.
All purchases come with our no questions asked 30 day return policy.
Customer Submitted Photos Of This Product
Product Description
Every colorist needs a handy set of colored pencils to help them escape into creative bliss! That's why we're bringing you 72 amazing colored pencils to fill in your favorite coloring book or sketchpad. Our pencils provide the perfect balance of soft and hard lead to allow for smooth application without worrying about the fragility of each pencil.
When it comes to a wide assortment of colors, we have you covered. Hues come in shades of yellow, orange, pink, red, blue, purple, brown, tan, green, white, gray, and black. For quick and easy reference, the color name and color code are printed on the barrel of each pencil.
Whether you're adding to your arts and crafts station or gifting a friend, our set comes complete with the coloring essentials every colorist needs. The nylon travel case, ColorIt gift box, and bonus sharpener make up the total package for any coloring fan! Ready to join the fun? Order your set of 72 colored pencils today!
Each set includes the following:
72 wax-based colored pencils

Color name and code printed on each pencil

Soft and smooth application of pigments

Strong and durable lead to minimize breaking

Nylon travel case with bonus sharpener

ColorIt gift box with magnetic closure
Pencil colors include: 
C001 - Blue Wave, C002 - Festive Green, C003 - Magical Blue, C004 - Dark Chocolate Brown, C005 - Caramel Tan, C006 - Smooth Grey, C007 - Glee Green, C008 - Happy Yellow, C009 - Red Serenity, C010 - Zesty Orange, C011 - Pink Kindness, C012 - Soothing Green, C013 - Hello Pink, C014 - Warming Grey, C015 - Orange Burst, C016 - Bubble Pink, C017 - Spirit Green, C018 - Enlightenment Blue, C019 - Brown Snuggle, C020 - Loving Red, C021 - Blue Breeze, C022 - Autumn Copper, C023 - Gentle Brown, C024 - Distinguished Grey, C025 - Spring Peach, C026 - Purple Harmony, C027 - Generation Blue, C028 - Clear Blue, C029 - Yellow Serendipity, C030 - Restful Green, C031 - Mainland Green, C032 - Millennium Black, C033 - Pleasing Orange, C034 - Natural Brown, C035 - Pacific Blue, C036 - Countryside Green, C037 - Calming Yellow, C038 - Purple Peace, C039 - Pink Tranquility, C040 - Mystic Blue, C041 - Yellow Cake, C042 - Optimistic Orange, C043 - Cosmic Purple, C044 - Summer Tangerine, C045 - Mild Green, C046 - White Angel, C047 - Red Hope, C048 - Quiet Green, C049 - Humility Brown, C050 - Heart Of Gold, C051 - Mindful Brown, C052 - Green Balance, C053 - Tasty Plum, C054 - Revitalizing Pink, C055 - Silver Lining, C056 - Pleasantly Peach, C057 - Refreshing Blue, C058 - Thoughtful Red, C059 - Purple Faith, C060 - Inner Purple, C061 - Creative Green, C062 - Soulful Grey, C063 - Pink Inspiration, C064 - Purple Cheer, C065 - Radiant Red, C066 - Friendship Green, C067 - Devotion Pink, C068 - Aspiration Green, C069 - Purple Belief, C070 - Healing Grey, C071 - Pink Bliss, C072 - Purple Grace
Customer Reviews
Write a Review
Ask a Question
Filter Reviews:
pencils
color
gel pens
items
pages
side
couple
heart
work
sharpener
Pleasantly Surprised
I Purchased this set because I'm a colored pencil addict and I wanted to see how they measure up to more expensive brands. They are soft and creamy, color lays down nicely and they blend well together. They would fall just below Prismacolor Premier and Fabercastel Polychromos which is a great spot to fall!! Especially at this price point. The case is fabulous, sturdy and travels easily. The pencil sharpener works well also. I had one pencil that would break everytime I sharpened it. The company got me a replacement very quickly. I would recommend these pencils.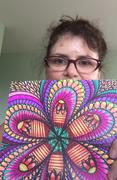 PM
04/14/2019
Patricia M.
Disappointed
Because I have all the other mediums products from ColorIt, I wanted to have the Colored Pencils. I bought the 72 pencil set. I am sadly disappointed with this product. I have 6 sets of pencils now, including the ColorIt set. 4 are wax based & 2 are oil based. I compared the ColorIt set against 3 other wax based pencils. The 3 sets are: Marco Raffine 72 pieces, Artist Choice 120 pieces, & Prismacolor 150 pieces. All three out performed the ColorIt set. Both the Marco Raffine & Artist Choice sets were much less expensive than the ColorIt set. The first thing I did, after using the sharpener that came with the set, was to put it aside. I have used a T'GAAL sharpener for a couple of years & I will explain why. There are 5 different pencil points for a person to use. Each sharpens very well, but my favorite is #1. This allows me to get a perfect point without exposing lots of lead or wasting the pencil. If you can sharpen a great point without exposing the lead too far, you can cut down on breakage about 95%. As many of my pencils are expensive, I want to get the most out of them. HINT: Try not to drop your pencils, as this will be the reason leads break internally. As for the color lay down, I found that it varied. Depending on paper and heaviness of hand, I found the product was fair, dependent upon the paper colored & the ability to layer color. The strangest part of this test was that the cheaper paper accepted the color better! I had so much difficulty producing vibrant colors in the ColorIt pages that I became frustrated. The second best paper produced a little more results, but the best work came using old fashioned coloring book paper and Create Space paper. Of course, I had to employ the use of a color blender pencil to achieve the results I wanted. The less expensive paper will not accept wet blending agents without buckling. I also found that the lighter the pressure, the easier the layering. To produce the best color, I will often go over an area several times to get the right depth of color. Again, the pencils do layer fairly well. Back to the lead. The colors of the ColorIt colored pencils are horribly chalky. The lighter colors are really bad, but different colors are worse than others. This can be extremely aggravating, as those tiny dark areas can throw your plans off, when coloring. You will see what I call "freckles" of color. HINT: Keep a makeup brush handy for brushing the chalkiness away instead of using your hand. Using the brush will keep your hand from driving color into the tooth of the paper. If you don't have a brush, blow on & then tap the paper from the side. I spent $0.97 plus tax on my brush at the local box store. The case is lovely, keeping your pencils in place. The elastic loops hold the pencils tightly and they will stretch with use. HINT: Remember to clean the outside of your case! If you share with others, clean your pencils too. For the case, I use a wet wipe such as Lysol. I live alone, but I would prefer not to re-infect myself after a cold or flu. One last thing. The color ends are shiny and bright. They do not represent true color. For each set of medium I own, I create color charts. With one glance, I have the color number & name, where the pencil is located, and a swatch of color. This keeps me from flipping through & testing color over & over. Make a simple grid and color lighter pressure color vs layered color or harder pressure depending on how you color. Thank you for taking the time to read this review.
Wonderful product
My family and I have enjoyed all the items from Colorit. I will be in the future purchasing more.
72 colored pencil set
I love these pencils! They are easy to color with and I love the color selection.
Sign up for exclusive sales and latest news
A Word From Our Co-Founder
Reviews From The Web
What people are saying about us...
"I love my coloring book and it relaxes me to color. It's great quality! You can use markers, colored pencils or crayons and it looks amazing. Thank you for creating such a GREAT product."
Jessilyn in El Paso, TX
"I just wanted to tell you how much I love your ColorIt adult coloring book, Calming Doodles volume 1. It is such great quality and the tangles are great to color with gel markers. They look fabulous! I especially love the spiral binding at the top of the page. It makes it so easy to create my masterpieces."
Tiffany in Overland Park, KS
"The quality is outstanding. The hard covers...front and back...and the "blotter" page you include, they just all come together to form a really great product. And the drawings are-each and every one- beautifully done works of art! Sometimes I hesitate to even colour the pictures because I don't want to spoil the edgy black and white look to them. But I force myself to (-; anyway."
Robin in Raymond, WA
"My husband gave me your Calming Doodles coloring book for Christmas and I LOVE it. The stiff backer board is perfect to support the wonderful heavy weight of the paper. I use markers and love the finish and smooth look I get on the paper. I am a card maker and plan to cut each sheet into 1/4's to make cards out of each piece. Love having a coloring book I can do something with instead of having lots of white space with an image in the middle of each page. You've got a winner here to be sure."
Colleen in Kalispell, MT