Posted by ColorIt Support on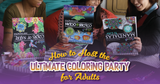 When you think of hosting a "party," gathering your friends around for a day of coloring (with some cocktails on the side) may not be the first thing that comes to mind.
But really, if you want to connect and catch up with friends, throwing a coloring party for adults is the way to go! It's also great for soothing stress and getting your creative juices flowing.
As with any party, it takes a bit of planning and organization to make your event a success. Keep reading for tips on how to host an awesome adult coloring party you and your guests will enjoy!
Read more