Posted by ColorIt Support on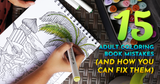 Adult coloring books are a fun and relaxing way to free your creativity.
However, like any good hobby out there, it's not uncommon to encounter a couple of stumbling blocks along your coloring journey. 
It's okay, we've been there--- and we're here to help you get out of the same rut.
Here are 15 of the most common mistakes that you can make when doing adult coloring books and how you can fix them:
Read more
---